History
Anna Leese - lyric soprano
Major Performances and Awards:
Black Barn artist in residence, New Zealand Singing School, Napier, January 2011
Tour of China with Jose Carreras, December 2010
Named Arts Foundation New Generation Award, December 2010
Bach Christmas Oratorio with Tudor Consort, NZ, November 2010
Mozart Regina Coeli with Renaissance Singers, NZ, December 2010
Recorded 'Italian Love Songs' CD with Stephen de Pledge for Michael Storrs Music, November 2010
Recital St James' Piccadilly, November 2010
Awarded best supporting female in the 2010 Opera Holland Park season
Recorded Brahms' Liebeslieder Waltzes etc for Linn Records
Semi-finalist in Paris International Opera Competition, October 2010
Zandonai's 'Francesca di Rimini' (Biancofiore) for Opera Holland Park, London, July-August 2010
Brahms' Liebeslieder Waltzes with the Prince Consort, Brighton Festival, May 2010
Performance for Opera Holland Park Fundraising event at Kenwood house, Holland Park, London, May 2010
ROSL Centenary Service of Thanksgiving, 11am, St James Piccadilly, London, May 2010
Mahler 8 Symphony- Halle Orchestra, Mark Elder cond., May 2010
Wigmore Hall recital, including a world premiere of special commission by Ned Rorem, March 2010
Eugene Onegin (Tatyana) Flanders Opera, Antwerp and Ghent, February 2010
Nelson Opera in the Park, New Zealand, February 2010

---

Antonia in Offenbach's Tales of Hoffman, Opera Koln, Oct-Nov 2009
Tatyana in Tchaikovsky's Eugine Onegin, New Zealand Opera, Aug 2009
Linari Festival, chamber ensembles and solo recitals, Tuscany, Rotterdam Philharmonic, July 2009
Summer concert, Jose Carerras, City of London Orchestra, June 2009
Musetta in La Boheme, Toronto, Canadian Opera, March-May 2009
Mendelssohn Elijah, Cardiff, BBC National Chorus of Wales, March 2009

---

Wigmore Hall recital with Graham Johnson, June 2008
Musetta in Puccini's La Boheme, ROH, Covent Garden, 2008
Echo in Strauss' Ariadne auf Naxos, ROH, Covent Garden, 2008
First Lady in Mozarts' Die Zauberflote, ROH, Covent Garden, 2008
Countess in Mozart's Marriage of Figaro with Classical Opera Company, May- July 2007
Performance at the America's Cup in Valencia, May 2008

---

Concert tour of New Zealand, February/March 2007
EMI debut recording with Graham Johnson, February 2007
Winner Maggie Teyte Prize and Miriam Licette Scholarship, February 2007
Michaela in the Royal Opera Houses's Carmen, January 2007

---

Musetta in the Royal Opera Houses' La Boheme, November 2006
Cover Arminda in the Royal Opera House's la Finta Giardiniera, August 2006
Proms Mozart Concert with SCO and Norrington, July 2006
Fiordiligi in Classical Opera Company's Cosi fan Tutte, June/July 2006
Tamiri in Classical Opera Company's Il re Pastore, June 2006
Soloist in Handel's The Messiah, Albert Hall, May 2006
Tamiri in Lindbury Theatre's Il re Pastore, April 2006
Soloist in Dame Kiri te Kanawa Foundation concert in New Zealand, with The New Zealand Symphony Orchestra (broadcast on television) Feb 2006

---

Handel's The Messiah performances throughout New Zealand, Christmas 2005
Rosalinde in BBIOS Die Fledermaus (R. Strauss) Nov 2005
Juliet in British Youth Opera's Romeo and Juliette (Gounod) Summer 2005
Fiordiligi in BBIOS Cosi Fan Tutte (Mozart) June 2005
Winner 2005 Richard Tauber Prize in Wigmore Hall, June 2005
Mozart Mass in C minor, Royal Festival Hall, March 2005
Soloist for the Queen's Commomwealth Day service in Westminster Abbey, March 2005
Recital in Purcell Room, March 2005
Mozart Arias with the Auckland Philharmonic Orchestra, March 2005
Lunchtime recital at St James, Piccadilly Feb and March 2005
Recording of Elgar's The Apostles in Canterbury Cathedral with London Philharmonia, Jan 2005

---

Female Chorus in Britten's The Rape of Lucretia with BBIOS, November 2004
Ilia in Mozart's Idomeneo with the Auckland Philharmonic orchestra, July 2004
Mathilde in Poulenc's Dialogues of the Carmelites, June 2004
Lunchtime recital at St Martin-in-the-Fields, July 2004
Best overseas competitor in the 2004 Royal Overseas League Competition, March 2004
Vocal section winner of the 2004 Royal Overseas League Competition, February 2004
Donna Anna in Don Giovanni excerpts with Andrew Parrot and the London Mozart Players in Fairfield Hall, February 2004

---

Soloist for Handel's Messiah in Marlow UK, Dunedin NZ and Napier NZ, Nov-Dec 2003
Accepted on the RCM Josephine Baker Trust program 2003
Recipient of a Constant and Kitt Lambert Award, RCM 2003
Benefit concert tour of New Zealand, three solo recitals, July/August 2003
Soloist with the Auckland Philharmonic Orchestra for 2003 Puccini concert
Winner of the 2003 McDonalds Aria Scholarship, Sydney
Recipient of a Donny trust scholarship
Scholarship trip to Italy to perform and learn basic Italian
Soloist for the Dunedin Proms, 2003
Soprano Soloist for St John's Passion, Dunedin Sinfonia, 2003
Winner of a Patricia Pratt Memorial Scholarship
Soloist for Stadium Spectacular 2003 (televised)
Soloist for Sky City Symphony in Auckland, 2003 (300,000 audience)
Recipient of the 2003/4 Henry Cooper Memorial Award
Performed in Dame Kiri te Kanawa's backing chorus at Craggy Range opening, 2003
Winner of the 2002 Lockwood Aria Competition
Graduated from Otago University with MusB Hons (first class) November 2002
Winner of the 2002 Mobil Song Quest
Recipient of a Creative New Zealand Scholarship 2002

---

Soprano in Handel's Messiah, Ashburton, 2001
Soprano in Mendlessohn's Elijah, City of Dunedin Choir 2001
Winner of the Dame Sister Mary Leo Scholarship 2001
Winner of the Otago Daily Times Aria 2001
Winner of the Christchurch Competitions Society Aria 2001
Winner of the Nelson Mail Aria 2001
Masterclasses
Antony Rolfe Johnston, Professor Richard Miller, Jane Keller, Judy Bellingham, Marvin Keenzy, Roger Vignoles, Donald Maxwell, Sarah Connolly, Stephen Roberts, Thomas Allen, Sarah Walker, Anne Murray.
Musical Education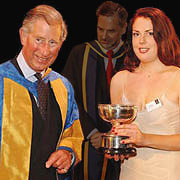 At high school Anna joined all the choirs available, and eventually conducted her own vocal group for two years. She was a member of the New Zealand Secondary Schools Choir, and later, the New Zealand Youth Choir. She studied piano, violin, bassoon, clarinet, guitar and recorder, before deciding to pursue solo voice in 1998.
Anna graduated from the University of Otago in November 2003, with a first class honours degree in music. In 2006 she graduated from the Benjamin Britten International Opera School at the Royal College of Music, London, and won the Queen Elizabeth Rosebowl, which was presented by HRH Prince Charles in 2007.